How Many Dogs Have Been in the White House? Unearth the history of White House Pooches
From President Teddy Roosevelt's beloved terriers to First Lady Michelle Obama's adorable Portuguese Water Dogs, America has had a long-time fascination with presidential pets.
But just how many canine companions have lived in the White House over the years? From pampered pooches to service animals, every president so far has shared their story and had their own unique relationship with man's best friend.
In this blog post, we will explore the fascinating topic of "how many dogs have been in The White House" throughout its 200-year history – from tail-wagging tales of historic presidents and their furry friends to modern-day celebrity canines popularized by social media.
Get ready for an interesting journey back in time!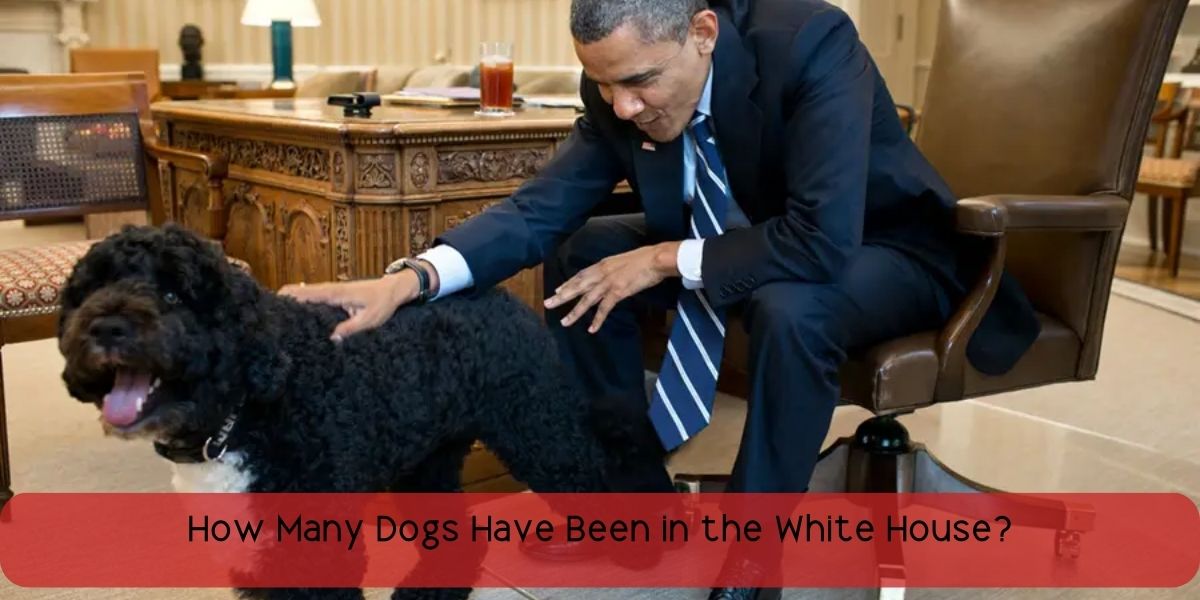 How Many Dogs Have Been in the White House?
The White House has seen plenty of dogs throughout the years, with President Obama and his family owning the most. The Obamas had two Portuguese Water Dogs named Bo and Sunny during their time in the White House. Before them, George W. Bush famously owned a Scottish Terrier named Barney and his daughter Jenna owned a black and white Texas Cattle Dog named Miss Beazley. 
Other canine companions in the White House include Franklin D. Roosevelt's Scotties Fala, Meggie, and Winks; Calvin Coolidge's terriers Peter Pan and Rob Roy; Warren Harding's Airedale Laddie Boy; Woodrow Wilson's Bull Terrier Bruce; Theodore Roosevelt's terriers Pete, Skip, and Jack; William McKinley's Pointer Heidi; Benjamin Harrison's Collie Dash; and Rutherford B. Hayes' dog Duke. 
In total, it is estimated that around 42 different dogs have been part of the presidential household. 
In addition to these pups, many Presidents have adopted cats, horses, birds, a goat, and even more animals while in office! It's clear that the White House is a pet-friendly place!
What Breeds of Dogs Have Been in the White House?
In addition to Bo and Sunny, many other breeds of dogs have lived in the White House.
Theodore Roosevelt kept a Bull Terrier named Pete; Calvin Coolidge had a white Collie mix named Paul Pry
Herbert Hoover had Belgian Shepherd Dogs named King Tut and Yukon
Franklin D. Roosevelt had a Scottish Terrier called Fala; Harry S. Truman had two Cocker Spaniels named Mike and Feller
Dwight D. Eisenhower owned a Weimaraner called Heidi
John F. Kennedy had several different breeds, including a Welsh Terrier named Charlie, an Irish Wolfhound called wolf, and a Poodle called Clipper
Gerald Ford kept a Golden Retriever called Liberty; Ronald Reagan had a Cavalier King Charles Spaniel named Rex
George H.W. Bush had an English Springer Spaniel called Millie and her puppies, Ranger and Spot
Bill Clinton kept a Chocolate Labrador Retriever called Buddy and his daughter Chelsea had a cat named Socks
George W. Bush owned two Scottish Terriers named Barney and Miss Beazley
Barack Obama had two Portuguese Water Dogs named Bo and Sunny. These are just a few of the breeds of dogs that have lived in the White House!
Overall, Labrador Retrievers, Irish Setters, Shetland Sheepdogs, Yorkshire Terriers, Golden Retrievers, English Springer Spaniels, Poodles, Beagles, German Shepherds, and Miniature Schnauzers were some dog breeds that exist in the White House.
In recent years, President Biden has brought his German Shepherds Major and Champ to join the list of White House pets. This marks another incredible addition to the amazing list of White House animals!
How Did Dogs Adjust to Life in the White House?
Dogs have been living in the White House since George Washington's time. Over the years, dogs have adjusted to life in the White House by becoming accustomed to being surrounded constantly by people and having a lot of attention lavished on them.
The White House has always been full of people so dogs quickly get used to visitors coming and going. Dogs are always welcomed warmly by guests, many of whom come to the White House just for a chance to meet the president's canine companion.
Dogs also quickly become accustomed to being pampered and having plenty of people around them all the time. They get used to receiving a lot of attention from everyone, from the President and First Lady down to the kitchen staff. Dogs are treated as part of the family and they get to enjoy all the comforts that come with living in a presidential residence.
Living in the White House also provides dogs with lots of interesting opportunities to explore. They have access to extensive grounds and gardens, as well as plenty of nooks and crannies for them to discover around the building itself.
Living in the White House has always been a great privilege for dogs and one that many of them have adjusted to very well. They usually take it all in their stride, especially as they know they will soon be surrounded by lots of people who love them and can't wait to give them attention and affection.
Today, the White House is home to a variety of different dogs and each one has adapted well to life in their new home. From the Portuguese Water Dogs belonging to President Obama, to the Scottish Terriers of President George W. Bush, they all have found an affinity with living in America's most famous address.
Who Takes Care of the White House Dogs?
The White House dogs are beloved members of the first family. Who takes care of them? While it's true that the President and his family primarily care for their furry friends, there are also several staff members who look after the canine companions.
White House Ushers work with the President to make sure that all of the animals are fed and taken for walks. The groundskeepers also help to groom the dogs and tend to their needs. And of course, professional veterinarians are available to provide medical care as needed.
The White House Historical Association offers tours of the White House that include a visit with one of the President's canine companions. This is a great way for the public to get up close and personal with the Presidential pets.
The White House dogs play an important role in presidential history, so it's no surprise that they are well taken care of. From Ushers to veterinarians, there is a team dedicated to making sure that these special animals are healthy and happy during their stay at the White House.
Some Other Pets in the White House
Dogs have been the most popular pets in the White House, but they are not the only animals that have lived there. In recent years, presidents and first ladies have also welcomed cats, birds, horses, and other animals into their home.
President Theodore Roosevelt had a small menagerie of animals living at the White House including a badger, bear cubs, guinea pigs, lizards, and snakes. More recently, President Obama's family had two Portuguese Water Dogs named Bo and Sunny. They also adopted a shelter cat named Socks from the Washington Animal Rescue League.
The White House has been home to many different animals over the years and each one has added to the rich history of America's most famous residence. From loyal canine companions to exotic animals, they all have been welcome members of the presidential family.
FAQs
Are there any dogs in the White House now?
Yes, President Joe Biden's family has two German Shepherds named Champ and Major. The Bidens adopted Major from the Delaware Humane Association in 2018, making him the first shelter dog to live in the White House.
And they added a second pup, Champ, to their fur family in late November 2020. They also have two cats named Ben and Holly. Champ, Major and the cats have quickly become part of the Biden family at the White House!
What were some of the dog's favorite things to do in the White House?
The dogs of the White House have always enjoyed their time spent in America's most famous residence. During President Barack Obama's tenure, Bo and Sunny were two Portuguese Water Dogs who especially enjoyed long walks around the grounds, visiting with staff and guests, playing games on the South Lawn, and sunbathing on the Truman Balcony.
The Obama family also loved to take the dogs for car rides and even boat rides in the Potomac River when possible. They were especially fond of going on hikes around Camp David, where they could get some off-leash time! Bo was an avid swimmer and liked to accompany President Obama during his morning workouts at the White House.
Conclusion
In conclusion, over the course of US history, In total, it is estimated that around 42 different dogs have been part of the presidential household.
From the very first "President's Dog" to the most recent First Pet, many furry friends have been welcomed into 1600 Pennsylvania Avenue.
Not only have these special dogs created a sense of comfort and companionship for the presidents, but they have also impacted public opinion and even influenced international relations. From Fala to Sunny Obama, these presidential pooches have left their paw prints on history.
Visit our website to see more, thanks for reading!
References: