How to Stop a Dog from Humping
If you're like many pet owners, you might be desperately looking for solutions on how to stop a dog from humping – or as it's officially known, mounting – inappropriate objects and people.
We know this can be a embarrassing issue that may come with questions of why it's happening, when should we intervene and what methods are most successful in reducing this frustrating behavior? Thankfully, help is here!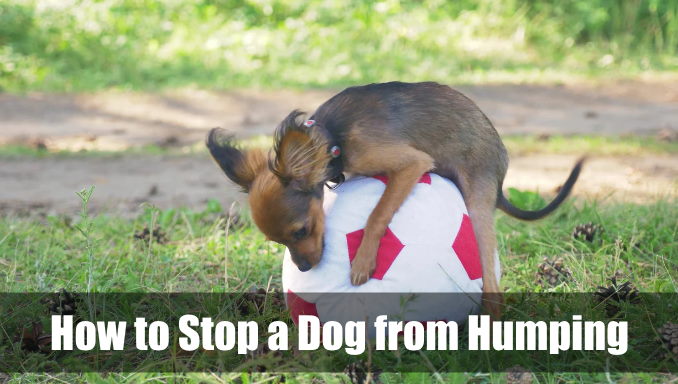 In this blog post, we'll discuss the reasons behind what's causing the behavior in dogs so you can better understand your furry friend and gain guidance on effective strategies for helping change their habits.
Humping is a common problem for many dogs, and it can be an embarrassing nuisance for pet owners. A dog humping people or other animals in public can leave you feeling helpless and frustrated.
But there's no need to worry – with the right training and care, you can teach your pup how to stop this unwanted behavior. Keep reading to learn more about how to get rid of the dreaded humping habit once and for all!
Why Do Dogs Hump?
Dogs may hump for a variety of reasons, including dominance and excitement. Humping can be a way for a dog to show dominance or assert their presence in the pack. Dogs also may hump when they get overly excited about something, such as when greeting other people or animals or when playing with toys.
Other possible reasons why dogs might hump include stress, boredom, or an attempt to gain attention. In some cases, humping is simply a learned behavior that the dog acquires from another dog in the household.
In general, humping isn't usually cause for alarm unless it becomes excessive or disruptive. Establishing clear limits and boundaries with your pet can help eliminate unwanted humping behavior. If the humping seems to be caused by excitement or stress, try to eliminate the trigger and provide your dog with more appropriate outlets for their energy. Providing regular exercise, mental stimulation, and positive reinforcement can also help manage humping behavior in dogs.
If you're concerned that your pet's humping is a sign of a more serious underlying problem, make sure to consult your veterinarian. They can help you come up with a plan that works best for you and your pet's needs.
Is Humping a Sign of Dominance?
Some people believe that humping is a sign of dominance in dogs. But while it can be an assertive behavior, humping isn't necessarily always a display of dominance.
In some cases, humping may be just part of the normal playing and exploring process for puppies, who are often very curious about their environment and other animals. Humping can also be a sign of excitement or an attempt to seek attention from their owners.
Regardless, it's important to remember that in the majority of cases, humping isn't aggressive behavior and is usually not harmful. However, if your pup's humping seems to be excessive or disruptive, you'll want to take steps to reduce the behavior.
How to Stop a Dog from Humping
Humping is a normal behavior for dogs, but it can be embarrassing and annoying. In order to stop your dog from humping, you need to first understand why they're doing it. Dogs hump for several reasons, including dominance, sexual excitement or just out of boredom. Once you understand what's motivating the behavior, you can take steps to prevent it from happening.
Redirect Their Attention
One of the simplest ways to stop a dog from humping is to redirect their attention. If you notice your pup getting ready to hump, give them something else to do, such as rolling on their back for a belly rub or playing with a toy. This will distract them enough that they will forget about the humping.
Command "No", "Stop"!
If your dog is humping out of dominance, you need to show them who's boss. When they start humping, say a firm 'No' and give them a time-out in another room for a few minutes. This will help reinforce that humping isn't an acceptable behavior.
Neuter or Spay
If your dog is humping due to sexual excitement, you should make sure to neuter or spay them. This will help reduce the urge to hump, as well as eliminate other unwanted behaviors such as marking territory.
Give Them More Exercise
Finally, if your pup is humping out of boredom, make sure they're getting enough exercise and stimulating activities. Provide them with plenty of toys and take them out for walks and playtime regularly. This will help keep them entertained and less likely to engage in this type of behavior.
Here are some tips for helping your pup break the humping habit:
-Interrupt the behavior with a loud noise or firm "No" when you notice them humping.
-Take them away from the trigger or environment that seems to be causing the behavior.
-Provide regular exercise, plenty of mental stimulation and ample toys for your pup to play with.
-Teach your dog commands such as "sit," "down," and "stay."
-Praise your pup for good behaviors and reward them with treats.
By understanding why your dog is humping, you can take the necessary steps to help prevent it from happening again. With a little patience and consistency, you can successfully stop a dog from humping.
What If My Dog Humps Other Dogs?
If your pup is humping other dogs, you should keep an eye on the situation and intervene as needed. It may simply be a sign of dominance or an indication that the other animal is not socialized properly. 
Many times, a simple interruption or distraction will be enough to stop them from continuing the behavior. If your dog seems to be overly aggressive when humping, it's important to seek help from a professional trainer to ensure that any underlying issues are addressed.
Remember that humping is a normal behavior for dogs and is usually nothing to be concerned about. However, if your pup's humping seems excessive or aggressive, it may be time to take some steps to prevent it from continuing. 
With patience and understanding, you can successfully help your pup break the humping habit. 
Is There a Medical Reason for My Dog's Humping Behavior?
In some cases, humping could be an indication of a medical problem. If your pup is humping excessively or in an unusual manner, consider taking him to the vet for an examination. There are several medical issues that can cause dogs to hump, including:
– Skin irritation:
Humping may be your pup's way of trying to relieve an itch or irritation from his skin. If this is the case, your vet can prescribe medications or treatments to help relieve the discomfort.
– Pain:
Humping could be a sign of pain in certain parts of their body. This is why it's important that you take your pup to the vet for a thorough examination if you notice any changes in their behavior.
– Urinary tract infection:
Dogs with a urinary tract infection may exhibit excessive humping as a way to relieve the pain or discomfort they are feeling when they urinate. A vet can diagnose and treat this condition.
– Hormonal imbalance:
If your pup exhibits extreme or out of character humping behavior, it could be a sign of a hormonal imbalance. Your vet can test for and treat any underlying issues that may be causing the behavior.
It's important to remember that your pup's humping behavior is not necessarily indicative of a medical problem. But if you suspect something might be wrong, it's best to take them to the vet for an examination. This can help you determine the underlying cause and provide your pup with the proper treatment or care.
In addition to a potential medical reason, humping may also be caused by behavioral issues like anxiety, excitement, or frustration. If this is the case, it's important to address the issue with positive reinforcement and proper training.
Working with a professional dog trainer can help you learn how to effectively manage your pup's behavior. With patience and consistency, you can teach your pup to stop humping or limit the behavior in an appropriate manner.
I Think My Dog Is Hump-Curious. What Should I Do?
If you think your dog is exhibiting signs of hump-curiosity, it's important to address the behavior. Start by consulting with a certified professional dog trainer or behaviorist for advice on how to help your dog learn appropriate behaviors and discourage humping. It can also be helpful to remove any triggers that seem to be prompting the behavior, such as a particular toy or object.
It's important to note that humping is not necessarily an aggressive or sexual behavior. In some cases, it can simply be a sign of excitement or over-arousal. Therefore, punishing your dog for humping may not be the best approach.
Instead, redirecting their attention or providing them with a calming activity such as fetch can be more effective. Additionally, teaching your dog basic commands like 'sit' or 'stay' may help to control the behavior and give them an alternate outlet for their energy.
Finally, if the humping continues even after you have tried these methods, it may be helpful to have your dog evaluated by a veterinarian. This can help you determine if there are any underlying medical or psychological factors that could be contributing to the behavior and receive treatment accordingly.
Overall, addressing humping behavior in a positive and consistent manner is key to helping your dog learn appropriate behavior. With patience and understanding, you can create a positive relationship with your pup and keep them healthy and happy.
FAQs Related to How to Stop a Dog from Humping
What causes a dog to hump the air?
Humping the air is a common behavior in dogs and can be caused by several different factors. The most common cause of this behavior is excitement or arousal. When dogs become highly aroused or excited, they may express their energy through this inappropriate action.
It could also be a sign of dominance, as humping can be seen as a way to establish dominance over other dogs in the area. Other potential causes include anxiety, stress, boredom, or even just playfulness. 
How far can dogs jump?
Most dogs can easily jump up to six feet in the air and higher if they are given enough space. However, smaller breeds such as Chihuahuas typically cannot reach heights as high as larger breeds such as German Shepherds or Golden Retrievers. 
Additionally, different breeds of dogs excel at various jumping disciplines, including agility and dock jumps. For example, border collies are known for their impressive agility and ability to jump high obstacles in a single bound. 
With the proper training and motivation, even small breeds of dogs can be taught to clear distances upwards of two feet! 
How long do dogs have to hump to get pregnant?
Female dogs typically take two to three weeks to become pregnant after mating. During this period, the female will usually mount other males in the area even if she has already been impregnated. This behavior is known as "pseudopregnancy" and is thought to be part of the dog's natural instinct for mate selection.
What does it mean if my dog keeps licking me and trying to hump me?
If your dog is displaying this behavior, it could be a sign of anxiety or even aggression. Often times dogs that are anxious or stressed may exhibit these behaviors as a way to feel more secure and in control. Additionally, if the behavior persists, it could mean that your pup is trying to assert dominance over you.
What breed of dog humps the most?
It is difficult to pinpoint a single breed of dog that humps the most, as this type of behavior can depend heavily on individual temperament and other environmental factors. However, certain breeds such as Cocker Spaniels are more likely to display this behavior due to their higher energy levels and tendency towards excitement.
Additionally, herding breeds such as Australian Shepherds and Border Collies may also be more prone to humping due to their need for physical activity. 
Final Thoughts on How to Stop a Dog from Humping
Ultimately, the best way to stop a dog from humping is to be consistent with training, reward them when they are behaving appropriately, and provide plenty of exercise and mental stimulation. If humping continues despite these efforts, consider consulting a veterinarian or behavior specialist for further advice.
Spaying/neutering can also reduce this behavior in dogs. By providing your pup with the right environment and training, you can help eliminate humping and redirect their energy into more appropriate activities. With patience, understanding and consistency, you can teach your dog how to stop humping for good.
We hope this post has been helpful in educating you on how to stop a dog from humping. Remember that with patience, understanding and consistency, you can help teach your pup how to stop this inappropriate behavior for good. Good luck!