How Much Do Dog House Sitters Charge in the UK? Get trusted pet care at the right price
Looking for the perfect dog house sitter to look after your pooch while you're away? You want someone responsible and trustworthy, but you also need to know how much they will charge.
In this blog post, we'll provide a detailed overview of how much dog house sitters typically charge in the UK, so you can make an informed decision that works within your budget.
Read on to find out all about costs involved with booking a canine caretaker who has experience handling puppies through senior dogs alike!
See more: How Many Dogs Were On the Titanic?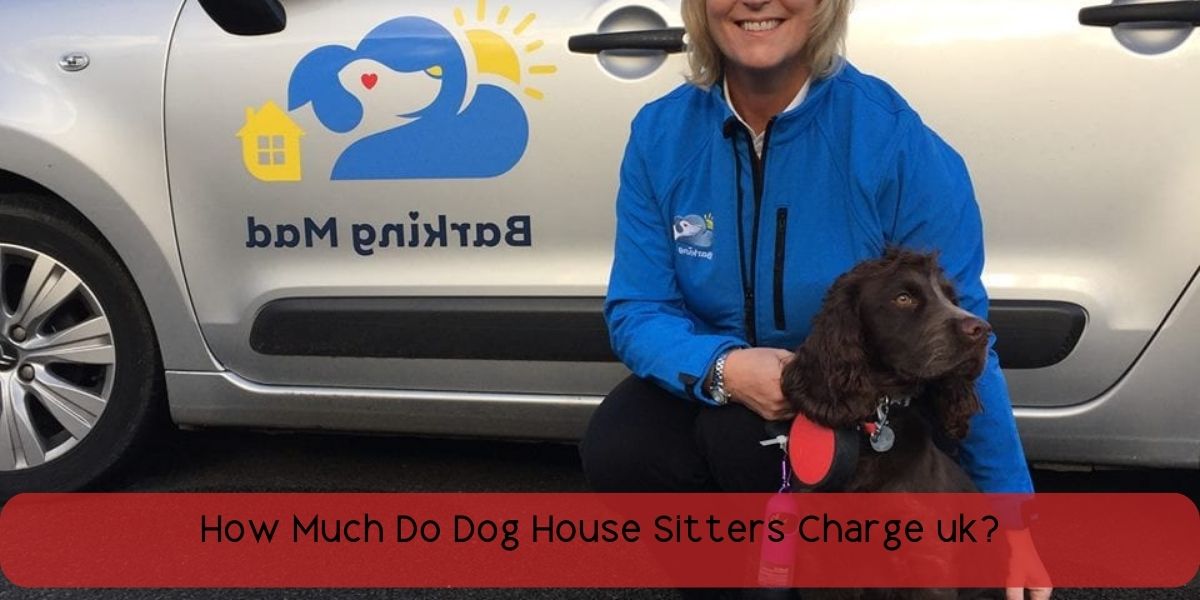 How Much Does a Dog House Sitter Charge in the UK?
The cost of a dog house sitter in the UK can depend on several factors, such as the number of dogs you have and their size. Generally, most dog house sitters charge by the hour or day. Some may even require an up-front fee for services, such as pet-sitting insurance coverage.
On average, expect to pay between £10 – £20 per hour or £50 – £100 for a full day of care. Additional fees may be added on for pet food, transportation, and other special services that the sitter provides. Be sure to talk with your chosen house-sitter about their rates and what is included in their fee structure before you book them.
In addition to the cost of a house-sitter, you may also want to consider additional expenses such as pet sitter insurance, which can help protect your investment and provide peace of mind.
Overall, the cost of a dog house sitter in the UK can vary greatly depending on your individual needs and preferences. Do your research beforehand and compare rates to ensure you've found the best fit for both you and your pooch.
How to Find a Reputable Dog House Sitter in the UK
Finding a reputable dog house sitter in the UK can be daunting. With so many people offering their services, it's important to make sure you choose someone who is reliable and trustworthy. Here are some tips to help ensure you find a reputable dog house sitter in the UK:
Check References
Be sure to ask for references from past clients and contact them. Ask about the sitter's reliability, how they interacted with their dog (or dogs) during their stay, and other pertinent information.
Read Reviews
Look for reviews of the services you are considering on popular websites such as Google or Yelp. This can give you a good idea of how reliable and trustworthy the sitter is.
Ask Questions
Before hiring a dog house sitter, make sure to ask lots of questions about their experience and qualifications. They should be able to provide you with references, proof of insurance, and any other relevant information that can help ensure they are the right person for the job.
Meet in Person
Finally, it's important to meet with your potential dog house sitter in person before hiring them. This will give you an opportunity to ask more questions and get a feel for their personality. You can also make sure they are comfortable with handling dogs and caring for them during their stay.
Finding a reputable dog house sitter in the UK doesn't have to be difficult. Following these tips can help ensure you find someone who will provide your pet with the care and attention they need while you are away.
Benefits of Using a Dog House Sitter
Stress-Free Pet Care
Having a dog house sitter ensures your pet will be taken care of while you're away. A pet sitter is trained to look after animals and can provide the necessary attention, exercise, playtime, and cuddles that your pet needs. You don't have to worry about leaving your furry friend home alone or in the hands of unfamiliar people.
Experienced and Knowledgeable Care
A professional pet sitter is well-versed in animal care and knows the behaviors, needs, and emotional states of pets. They have experience providing quality care to animals from a variety of backgrounds and can be trusted to provide the best care for your pet.
Customized Care Plans
Dog house sitters are able to tailor services to meet the unique needs of each individual pet. Whether your dog needs extra walks, playtime, or medication administered, a pet sitter is equipped to handle it all. They can even provide special care for elderly pets or those with disabilities.
Timely and Reliable Services
Pet sitters are trained to be punctual and reliable when caring for animals. They understand the importance of being on time and will make sure that your pet is well taken care of, regardless of your schedule. With a pet sitter, you can be sure that your pet will always have the care they need.
Safe and Secure Environment
Having a professional dog house sitter in your home helps to ensure that your pet is safe and secure at all times. They are able to provide constant supervision for your pet and can even help to deter potential intruders or burglars by providing a presence in your home.
Affordable Care
Dog house sitting is often more affordable than traditional pet boarding services and can be tailored to fit any budget. Pet sitters are usually available for short-term or long-term services, so you're able to find the best option for your pet and wallet.
By utilizing a professional dog house sitter, you can rest easy knowing that your beloved pet is in good hands while you're away. With experienced and knowledgeable care, tailored services, timely and reliable services, a safe and secure environment, and affordable care options, there are plenty of benefits to having a pet sitter look after your furry friend.
How to Prepare Your Home for a Dog House Sitter
1. Set up your home in a way that makes it safe and comfortable for the dog house sitter. Put away any breakable items, clean up any potential hazards, and make sure all doors are secure.
2. Gather essential supplies for the dog house sitter to use during their stay. This includes food, treats, toys, bedding, and any other items the dog might need.
3. Provide directions on how to care for your pet while you are away. Give detailed instructions regarding feeding times, exercise routines, medical needs, and any behavioral issues the sitter should be aware of.
4. Make sure there is a space that the dog house sitter can use for their own personal items. This should be a private area that is away from your pet and not easily accessible.
5. Make arrangements for someone to check in on your pet while you are away. Knowing that someone will be there to look after them while you are gone can help ease anxiety and ensure that your pet will be safe and well taken care of.
6. Have an emergency contact list handy for the dog house sitter. This should include a veterinarian, vet hospital, and poison control center as well as contacts for other important people in case of an emergency.
7. Provide detailed instructions about how to get into your home and where to find things such as the pet food, treats and other supplies.
8. Talk to your dog house sitter about any special needs or requests you may have. This can help ensure that your pet will be taken care of in a way that meets their unique needs.
9. Have a lock box with a key and/or access code that is easily accessible to the dog sitter in case of an emergency.
10. Leave plenty of information about your pet, including their medical history, temperament and any important contact numbers. This will help ensure the safety and well-being of your pet while you are away.
FAQs
How do I know if a dog house sitter is right for me?
When deciding if a dog house sitter is right for you, it's important to consider both the individual needs of your pet and your own lifestyle.
You should look for a sitter who has experience with dogs of the same breed or size as yours, and whose schedule is flexible enough to accommodate your travel needs. It's also important to find a sitter who is trustworthy, reliable, and able to provide the level of care your pet requires.
Ultimately, you should choose a dog house sitter that both you and your pet are comfortable with.
How do I book a dog house sitter?
Booking a dog house sitter is easy and straightforward. You can search for local sitters on websites such as Rover, Care.com, or DogVacay and book online after you browse their profiles, read customer reviews, and compare prices.
Alternatively, you can contact pet-sitting agencies in your city to inquire about the rates and availability of their dog house sitters. It is important to ensure that the chosen pet sitter has experience with dogs, good references, and a valid license or certification before you hire them.
Finally, always make sure to discuss the needs of your pup beforehand and do a meet-and-greet session with the person you are considering. This will allow you to get a better understanding of their personality and ensure that your pup is comfortable with them.
What is the standard house sitting rate UK?
The standard rate for house sitting in the UK can vary depending on a variety of factors, such as location, amenities offered and length of stay. 
Generally speaking, it is common to charge an hourly or daily rate with an average being between £10 – £20 per hour. For longer stays, weekly rates may be negotiated. 
Ultimately the cost of house sitting will depend on the individual circumstances. It is always wise to agree a rate before agreeing to any contract. This allows both parties to be confident of what they are receiving and paying for in advance. 
Additionally, ensure that you are clear if any additional costs apply such as travel, food or cleaning expenses. Therefore, it is important to factor this into any agreement.
Conclusion
In conclusion, the cost for dog house sitters in the UK varies depending on several factors. Rates may be higher in urban areas, where services are more sought after, and for longer stays or more challenging tasks. The best way to find a reliable and affordable service is to shop around, get references from friends and family, and read reviews online.
Ultimately, the cost of a pet sitter in the UK is determined by your particular needs and budget. With proper research and communication, you can find an experienced and trustworthy dog house sitter for a reasonable rate that works for you and your furry friend.
Thanks for reading! Visit Vet Ranch for more information.
References: