Where to Get Dog Training Certification? Unlock the secrets of successful dog training
Whether you are a professional looking to make a career out of dog training or an amateur looking to help train their pup, dog training certification can be beneficial.
There are many places to obtain certification, and with the right preparation and commitment, you can become an excellent dog trainer.
Do your research on reputable organizations to see which program best suits your individual needs. Be sure to get certified before starting any career in the field of dog training- it is essential for success!
Remember that where there is effort and dedication, success will follow. It's time to take action and begin the journey of becoming a certified dog trainer –and you now know exactly where to get dog training certification!
See more: What is a Training Dog Harness?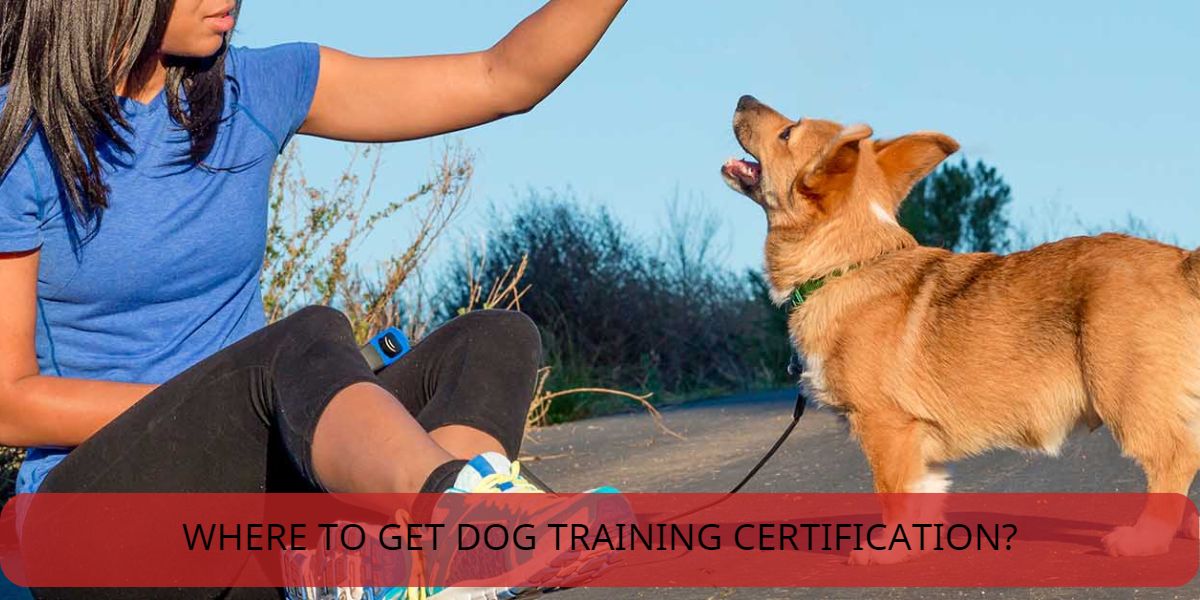 Where Can I Get Certified to Train Dogs?
The best way to get certified to train dogs is to complete an accredited dog training program. Dog trainers can gain certification by completing a course that has been approved by the Certification Council for Professional Dog Trainers (CCPDT). This organization offers two types of programs: Certified Professional Dog Trainer-Knowledge Assessed (CPDT-KA) and Certified Professional Dog Trainer-Science and Humane (CPDT-S&H).
In order to successfully complete the CPDT-KA program, you must pass an exam that covers topics such as animal behavior, dog psychology, training techniques, client education, business management, and legal issues.
The CPDT-S&H program covers topics that are more focused on humane and science-based training methods. In addition to passing an exam, you must also complete a practical assessment in order to become certified.
What Are the Benefits of Certification?
Recognition
Once you become certified as a professional dog trainer, you can be recognized in the industry and make yourself more marketable. Not only will it help to give clients confidence in your abilities, but employers may also view you more favorably when considering job applications.
Increased Knowledge
When you become certified, you will gain a greater understanding of dog behavior, learning principles, and various training methods. By gaining this knowledge, it makes it easier to apply appropriate techniques to specific situations and understand why certain behaviors may arise in different types of dogs.
Professional Development
Dog trainers who obtain certification can continue their education by attending seminars and workshops. These events can help to keep up-to-date with the latest scientific research and training techniques. Additionally, it can provide an opportunity to network with other professionals in the field.
Dog trainers who are certified have a much better chance of achieving success in their careers. It is important to understand the benefits that certification can bring and find the best program for you. Once you have completed your certification, you will be ready to start making a difference in the lives of dogs everywhere!
What Will the Certification Dog Trainer Process Involve? 
The certification process for dog trainers involves a few different tests and assessments in order to become certified. The first step is completion of an approved training course or program, which will teach you the foundation of animal behavior, handling techniques, and other essential skills needed to work with dogs.
After the course has been completed, aspiring trainers may need to pass an exam, such as the Certification Council for Professional Dog Trainers (CCPDT) Exam. The CCPDT also offers specialty certifications for trainers who want to specialize in particular areas, such as aggression or service dogs.
In addition to the course and exam requirements, many states will require that certified trainers obtain liability insurance and a license to practice in the state. It is also important that trainers stay up-to-date with new dog training methods and trends, and participate in continuing education opportunities.
Once you have fulfilled all of the requirements necessary for certification, you will be ready to start your career as a professional dog trainer. Working with dogs can be an incredibly rewarding experience, and having the certification will provide you with the knowledge and confidence to do your job effectively. With dedication and hard work, anyone can become a certified dog trainer.
How Much Does Certification Cost?
The cost of certification will vary depending on the certifying organization, and the type of certification you are seeking. Generally speaking, certification can range from a few hundred to several thousand dollars. The level of detail and complexity that goes into a given certification program can also affect the cost, as more comprehensive programs usually require more time, effort, and money to obtain.
Additionally, some certifying organizations may offer discounts or promotions for certain certification programs, so make sure to check with them for details. Ultimately, the cost of obtaining certification can be an important factor in determining which program is right for you.
By researching and weighing your options carefully, you can find a program that meets your needs without breaking the bank. 
FAQs
How long does certification take? 
The amount of time it takes to become certified will depend on the program and your level of dedication. Generally speaking, certification can take anywhere from a few months to over a year. Be sure to research each program carefully in order to make an educated decision.
What are the different levels of certification?
The level of certification you pursue will depend on the certifying organization. Generally speaking, there are three main levels of certification – basic, intermediate, and advanced. Basic certification is typically the most attainable and focuses on fundamental knowledge about animal behavior and handling techniques.
Intermediate certification may involve more complex topics such as nutrition or advanced obedience training. Advanced certifications may focus on specific topics such as service or therapy dogs.
Are there any drawbacks to dog training certification?
One potential drawback to obtaining certification is the cost and time commitment involved. While some programs can be more affordable, others may require a significant investment of both money and effort. Additionally, being certified does not guarantee that you will find work; you must still actively look for job opportunities in order to succeed.
Overall, certification can be a great way to gain knowledge and credibility. If you are willing to dedicate the time and resources required, it can open up many opportunities in the animal training field.
Conclusion
In conclusion, there are many options available to become a certified dog trainer. Depending on the desired level of certification, most people can find an accredited program with classes and certifications for various levels within their budget and time frame. 
Many organizations offer online courses as well as in-person classes, providing flexibility and convenience to those who need it. With the right training, those with a love of animals and an interest in becoming certified can start their journey to become a dog trainer. 
Ultimately, it's important to research which program is best-suited for one's individual needs and goals before taking any steps.
Thanks for reading! Visit Vet Ranch for more information.
References: