Have you ever wondered how NexGard, one of the top-selling flea and tick treatments on the market, works? While it's easy to purchase this product over-the-counter, understanding its effectiveness can be tricky.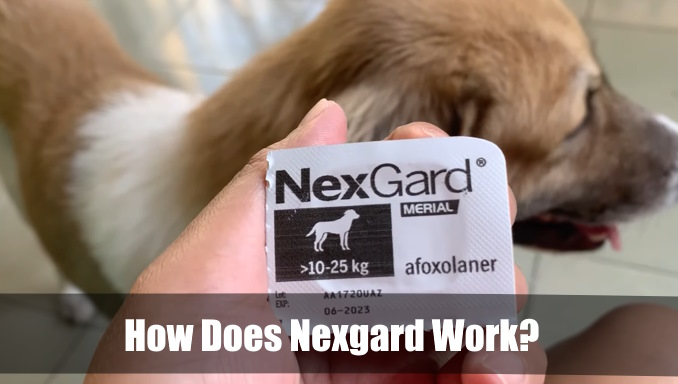 Are you confused by the details of how Nexgard works? You're not alone! This popular flea and tick prevention medicine has become increasingly popular in recent years, and many pet owners have questions about how it functions.
In this blog post, we'll walk you through what makes NexGard so effective for fighting pesky fleas and ticks. We'll explore its active ingredients, review safety considerations for both pets and people at home, as well as discuss prevention tips for keeping these parasites away from your pet in the first place.
By the time you finish reading through all of this material you'll have a full understanding of why NexGard has become such a popular choice!
What is Nexgard?
Nexgard is a monthly chewable flea and tick preventative for dogs. It contains the ingredient afoxolaner, which kills fleas, ticks, and other parasites quickly and effectively. It not only helps protect your dog from these pests, but also contributes to their overall wellbeing by keeping them free of disease-carrying parasites.
It is easy to administer and comes in a variety of flavors that your dog will love. Nexgard is safe for dogs of all sizes and breeds, and it's even approved by the FDA for use on puppies as young as 8 weeks old.
With its convenient dosing schedule, you can easily keep your pup protected from nasty parasites throughout the year. So, if you're looking for a safe and effective way to protect your pup from fleas and ticks, Nexgard is an excellent choice!
How Does Nexgard Work?
Nexgard works by targeting fleas and other pests through an insecticide called afoxolaner. This insecticide is quickly absorbed into the pet's bloodstream after ingestion, killing any adult fleas or ticks that it comes into contact with. It then continues to spread throughout the body, protecting your pet from any future infestations for an entire month. 
Additionally, Nexgard kills flea eggs and larvae before they have a chance to become full-grown adult fleas, helping to break the life cycle of these pests and preventing future infestations. 
By using this easy-to-administer oral chewable tablet your pet can be kept safe from flea and tick infestations for a full month. Nexgard also provides protection against three other dangerous pests, including American dog ticks, Lone Star ticks, and deer ticks. 
With its fast-acting formula and long-term protection, this flea and tick treatment from Nexgard is the perfect solution for keeping your pet healthy and pest free.  With Nexgard, you can rest easy knowing that your pet is safe and protected.
How is Nexgard Administered?
Nexgard is easy to administer and comes in a variety of flavors that your dog will love. It is available as a monthly chewable tablet that can be fed directly to your dog or mixed into their food.
It is important to follow the instructions on the packaging when administering NexGard, as overdosing can result in serious side effects for your pet. It is also important to note that NexGard should not be administered more than once every month, as this could result in a toxic buildup of the active ingredient afoxolaner in your pet's body.
Always follow your veterinarian's instructions and read the product label carefully before administering Nexgard to your pet. For best results, give the medication around the same time each month. It is important to not skip doses as this will reduce the effectiveness of Nexgard in protecting against fleas and ticks. In addition, it is advised to not give Nexgard to your pet if they are pregnant or lactating unless specifically instructed by your veterinarian. If you have any questions about administering Nexgard or about the product in general, talk to your veterinarian for more information.
This medication is available through a prescription from your veterinarian and should always be administered under their guidance and direction. If you have any concerns or questions, speak to your veterinarian before giving Nexgard to your pet.
Is Nexgard Safe for Puppies and Kittens?
Yes, Nexgard is safe for puppies and kittens over 8 weeks of age and weighing at least 2 lbs or 0.8kg. It is important to consult your veterinarian before administering any treatments or medications to ensure the safety and health of your pet.
Nexgard has been extensively tested in both puppies and kittens before its release, and it is an approved medication recommended by veterinarians. It is important to administer Nexgard exactly as prescribed by your veterinarian, and by the product label instructions.
This will help to ensure your pet's safety and well-being. If you have any questions or concerns about using Nexgard for your puppy or kitten, it is best to consult your veterinarian for personalized advice.
What Are the Most Common Side Effects of Nexgard?
Nexgard is generally well-tolerated but some common side effects have been reported in dogs taking Nexgard. The most commonly reported side effects are vomiting, itching or rash, decreased appetite, lethargy, and diarrhea. In rare cases, seizures have been reported after the administration of Nexgard.
Contact your veterinarian if you notice any of these side effects or other changes in your dog after taking Nexgard. If serious adverse reactions occur, stop giving the medication and contact your veterinarian immediately. It is important to discuss any concerns about side effects with your veterinarian before administering Nexgard. 
Most of these side effects are generally mild and usually go away within a few days of starting the medication, or may be relieved by reducing the dose.
It is important to remember that Nexgard has been proven to be a safe and effective medication when used as directed. And, with proper use, Nexgard can help protect your dog from dangerous parasites. 
How Much Does Nexgard Cost?
The cost of Nexgard varies depending on the size and type of pet being treated. Generally, a single dose of Nexgard for dogs weighing 4 to 10 pounds costs between $25 and $35 while a single dose for dogs weighing 11 to 24 pounds costs between $35 and $60. For larger dogs over 25 pounds, the cost increases to between $60 and $100 for a single dose.
For cats, the cost of Nexgard is generally lower than dogs, with a single dose costing around $15 to $20.
It's important to note that these costs may vary depending on where you purchase the medication from and any additional promotions or discounts available.
Where Can I Purchase Nexgard?
Nexgard can be purchased from your veterinarian or from online pet suppliers. It is important to remember that Nexgard requires a prescription and must be prescribed by your veterinarian before you can purchase it.
Be sure to check with your veterinarian for the best pricing and any special promotions they may have on Nexgard. They can also provide advice on how to properly and safely administer the medication.
Conclusion
In conclusion, Nexgard works by using afoxolaner as an active ingredient to protect your pet from fleas and ticks. It is a monthly chewable pill that can be easily administered, ensuring that your pet will stay protected for up to four weeks from flea and tick infestations. Nexgard provides fast-acting relief with minimal side effects, making it a great choice for pet owners who want to keep their pets safe and healthy.
Additionally, Nexgard's convenient packaging makes it easy to purchase and administer the product as needed. With this in mind, you can rest assured that your pet will stay protected with Nexgard.
We hope this article has helped you to understand how Nexgard works and why it is such an effective flea control option for your pet. Thanks for reading!